Here at CLEAR I don't think anyone would claim to be a naturalist, at least of any skill or repute.  But that doesn't prevent our collective and individual enjoyment of the natural world, including the signal events that mark the turning of the seasons. For me (forgive me, crocus fans), there are really three signature events. The first, perhaps the least emotive but still noteworthy for its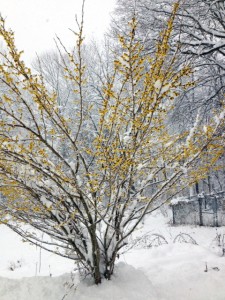 earliest-by-far indication of spring, is the flowering of my witch hazel.  This modest bush/tree, which is fairly unremarkable in appearance the rest of the year, shows itself extremely early with frilly yellow flowers that, from a distance, most people mistake for a precocious forsythia.  This year, I first noticed my bush blooming around Valentine's Day, in plenty of time to have its blooms stand in stark contrast to several modest snow storms — which, of course, made it all the more welcome.  (In Connecticut, Essex is the town most associated with the distillation and marketing of witch hazel as an astringent of the famous Dickinson brand.)
But the most welcome sign of spring to me, by far, is the migration of the wood frogs from their frozen woodland over-wintering spots to the wetlands and vernal pools that they inhabit in the spring, for mating and general partying purposes.  Sometime around early March, during the first warmish, rainyish night to present itself, these guys are on the move, by the thousands.  I will see if I can coax Juliana to write a blog about vernal pools in the near future.  The movement of amphibians between upland and wetland areas is actually a topic very relevant to our NEMO stormwater/land use programs, because the placement and design of roads, storm drains and curbs can have a devastating impact on these migrations.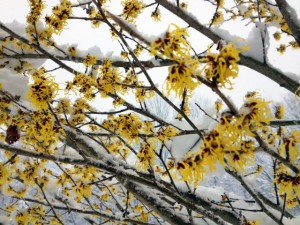 In any case, those frogs fortunate enough to survive the gauntlet of human infrastructure (not to mention the occasional predator) make their way down to the water, to vocalize and dally for a time.  Salamanders and other amphibians will follow soon after, but the humble wood frogs are first out of the box.  I am no herpetologist, but I know that wood frogs are wondrous animals to researchers and naturalists alike, because, quite literally, their veins run with antifreeze (of a sort) that allows them to skate their way through numerous winter freeze/thaw cycles and still come out chipper as ever in the spring.  Thus their front runner position as the earliest of the "herps" to mosey down to the vernal pools.
And thus (just in the nick of time) to the whole reason for this blog, which is to get you to listen to this (amateurish but authentic) recording that I made yesterday at a wetland near the CLEAR office in Haddam:  wood frogs, quacking away like a herd of miniature mallards on amphetamines. (Note:  you may have issues opening this audio file if you're using Chrome).
Wood frog Haddam Meadows 32713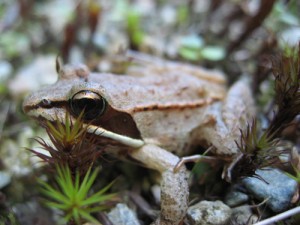 I absolutely love this sound.  Can't get enough.  So take a walk in the woods very soon — one that has some wetland areas or better yet, some vernal pools. This is a limited time offer and exists (in my experience) for about 10 days, when the more soothing soprano of the spring peepers starts to drown out the chortling of the wood frogs.  (By the way, I love the sound of the peepers as well — the third welcome sign of spring, and THE guarantee that the intoxication of warm spring nights is upon us, or at least not far away.  However, I think it's fair to say that peepers already have a largish fan club — not surprising given their almost irresistible call and their diminutive cuteness).  But for me, those pioneering wood frogs — with lust in their hearts and antifreeze coursing through their veins — are the real harbingers of spring.
I'll quack to that.
---