UConn's Conservation Training Partnerships (CTP) program just graduated its third year of Conservation Ambassadors, though admittedly, not exactly the way we had originally planned.
CTP begins with a two-day workshop where teen & adult teams learn how to apply innovative, user-friendly mapping and web technology to address local conservation issues through hands-on fieldwork.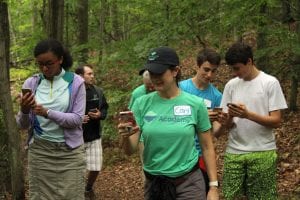 After the workshop, the team carries out a community conservation project in their hometown using their new tool-set. The projects are developed by the team at the workshop and CTP instructors provide support to help the team along the way.
Teen and adult program participants typically showcase their projects at one of two conferences in March: the Connecticut Conference on Natural Resources / Connecticut Outdoor Environmental Education Association joint conference and the Connecticut Land Conservation Conference. However, both of these events were postponed due to COVID-19 concerns.
Instead, we hosted the First Ever Virtual CTP Conference (FEVCC) online, where a total of 18 participants representing 13 CTP teams presented their projects to an audience of over 50 people. For our first virtual conference, thrown together fairly last minute, we consider FEVCC a big success!
Below I highlight the variety of technology used in just a few of the exciting and unique conservation projects presented during the virtual conference (you can see all of the recorded presentations here):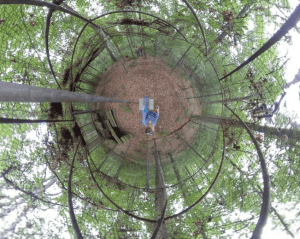 Keney Park Sherwood Forest (poster) – Hyun and Vikki researched the history of Sherwood Forest, a former zoo within Hartford's Keney Park, to create an ArcGIS StoryMap which includes a map of the zoo grounds and photos of the zoo remains. They even provide a "trailview" experience of the sea lion exhibit and bear cage when viewing the 360-degree photos.
Google Maps Meets Nature: Mapping the Silver Sands/Walnut Beach Boardwalk in Milford, CT (poster) – Caroline partnered her teacher, Christine, to create an online map of a local shoreline boardwalk using the Track-kit app and Google Maps. The map includes information about the boardwalk, in addition to photos of points of interest and wildlife caught on camera traps along the trail.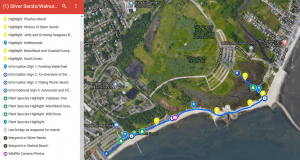 Water Conservation Survey & Results (slides) – Nisha created an online survey using Google Forms to collect data from residents of Darien and surrounding towns on their water usage habits. Respondents were provided recommendations for conserving water and other environmentally-friendly actions as they answered questions throughout the survey.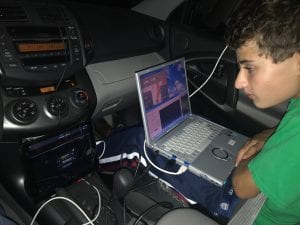 Nocturnal Lullabies… Our Journey to Listen for Bats in the Northwest Corner of Connecticut! (poster) – Aiden and Laurie, another student-teacher team, conducted mobile and stationary bat surveys using Wildlife Acoustic's Echo Meter Touch 2 Pro Ultrasonic Module, a car roof mount and SonoBat analysis software. Their valuable data, recorded with Epicollect5, contributed to the state's Natural Diversity Data Base. Check out their StoryMap for the full experience.
Water Quality of Wangumbaug and Bolton Lakes (poster) – Hannah and her partner Elizabeth compared various water quality parameters in two different lake systems. They then used the CT MS4 Viewer to determine the amount and percent of Impervious Cover (IC) by Watershed Basin for the upland area surrounding each lake. Not surprisingly, the lake with higher impervious cover had elevated values of conductivity and total dissolved solids.
Do You Have What it Takes to Customize a Raven Exhibit? (poster) – Oliva and her teacher, Laurie, in collaboration with the Cornell Lab of Ornithology, created a Raven Exhibit – an interactive display and sound visualization software system – about the Macedonia Forest Block Important Bird Area. They also compiled an extensive ArcGIS StoryMap with detailed information to help people customize their own Raven Exhibit.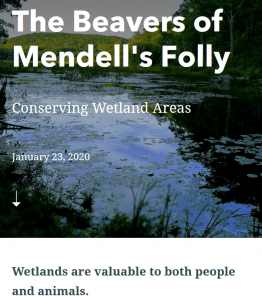 The Beavers of Mendell's Folly (poster) – Melinda and her partner Christin thoroughly researched beavers and the important role they play in the ecosystem at Mendell's Folly, a property of the Bethany Land Trust. They gathered and organized data using SonoBat, camera traps, Track-kit, Epicollect5, and Google Maps; recorded interviews with experts on wetlands, CT wildlife and beavers; and created an ArcGIS StoryMap to share with the public. Their StoryMap includes a timeline of aerial photos that show just how dramatically beavers changed one wetland over a six-year period.
Song Sleuth, iNaturalist and eBird are a few of the other apps used by 2019-20 Conservation Training Partnerships teams not mentioned above. You can check out all of the projects from this and previous years' participants on the Community Projects and Participant Products pages of our website.
If you or someone you know is interested in applying technology to carry-out conservation efforts in your hometown, email nicole.nrca@uconn.edu or visit s.uconn.edu/partnership.
Funding for the Conservation Training Partnerships program is provided by an award from the National Science Foundation.
---