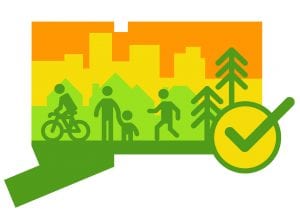 The Connecticut Trail Census just launched a new data visualization, analyzing use on many of the state's most popular multi-use trails. In 2019, the most heavily used trails were the Naugatuck River Greenway in Derby, Riverfront Recapture Trail in Hartford, and the Hop River Trail in Vernon. Hop River Trail data also indicated that a new 3-mile connection with the Charter Oak Greenway was the catalyst for an increase in over 10,000 users.
New Trail Census projects getting underway in 2020 include research to estimate use on other trails by combining existing Trail Census data and short-term counts; a multi-state conference on bicycle and pedestrian data collection; and, preliminary work on creating a statewide TrailFinder website, based on similar sites in Maine, New Hampshire and Vermont.
Initiated in 2017 as a partnership between UConn Extension, the Naugatuck Valley Council of Governments, the Connecticut Greenways Council, and local trails advocacy organizations, the Trail Census has expanded to over 20 data collection sites.  The program receives funding from the Department of Energy and Environmental Protection's Recreational Trails Program.
---