Television, video games, internet, oh my; these days one hardly has to leave their room to find endless entertainment. Today, many have lifestyles that are disconnected from the outdoors and nature. Couple this with the decline of student interest in science, and we are now seeing a shortage of environmentally-conscious and scientifically-informed citizens to tackle emerging environmental issues.
Today we will follow the story of Jenique. Jenique is a high school junior in Hartford, one of Connecticut's largest cities. She has had an interest in the environment since middle school and has advocated for recycling programs in her schools.
But, regardless of this interest, Jenique has had few opportunities to explore nearby parks and natural areas. "[During the summer], I mostly hang out at home. Even when I go out, I don't go outside, I go from building to car to building" Jenique told me.
This past summer, Jenique joined 23 students from throughout Connecticut during the Natural Resources Conservation Academy (NRCA; nrca.uconn.edu) field experience at UConn. Using the UConn Forest as a classroom during the field experience, students engaged in a wide range of topics, such as geospatial technology, freshwater systems, green infrastructure, forestry, and fish and wildlife conservation.
After the field experience, Jenique said, "At first, I didn't really know what I was doing, but I wanted to learn something with the environment. As the days progress, [I thought], this isn't as hard as I thought it was, I think I can do this. And as the days went on more, [I thought] oh my goodness I love this. I am learning this, I know I can do it, and I want to do it. Give me more. And as the days went on, [I thought] I can do this, I know how to do this, and I'm going to do this as soon as I leave."
Following the field experience, each student applies their new knowledge and skills to a 7-month conservation project in their local community. During these projects, students are mentored by a community partner (e.g. environmental professional from conservation organizations, land trusts, conservation or wetland commissions, government agencies or universities). NRCA students have undertaken a variety of projects that generate real conservation results, including installations of green infrastructure, development of monitoring protocols of vernal pools (important amphibian habitat), and restoration of waterways.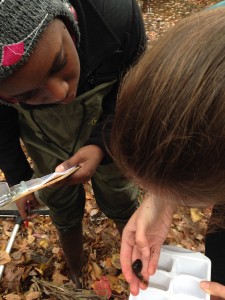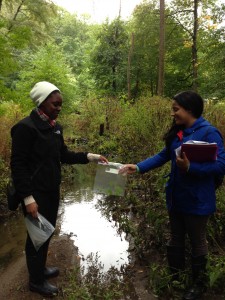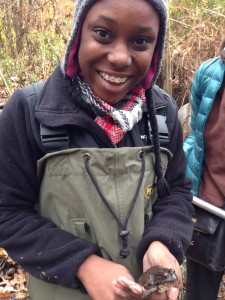 Jenique worked with Hartford's Community Solutions and NRCA faculty to identify areas in need of restoration along the Gully Brook—an impaired waterway embedded within Hartford's urban neighborhoods. Specifically, she surveyed macroinvertebrate (e.g. aquatic insects) and amphibian communities, as these taxa can serve as bioindicators of areas in restoration need.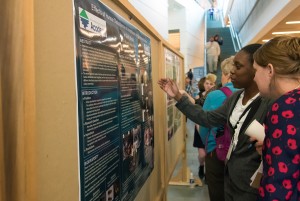 On March 14, 2016, Jenique along with the 23 other NRCA students presented their conservation work at the 10th Annual Connecticut Conference on Natural Resources. To date, 92 students, with the support of over 50 community partners, have completed more than 75 real-world conservation projects. Many of these students have subsequently gone to college to pursue their passions in natural resources and the environment.
To learn more and help support the NRCA, visit http://nrca.uconn.edu/support/ or http://s.uconn.edu/givenrca.
---