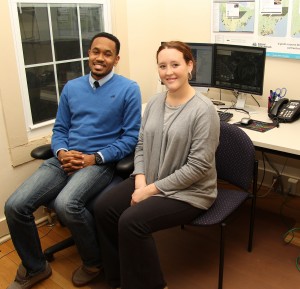 Two recent additions to the ranks have appeared in the hallowed hallways of CLEAR, swelling our ranks to double digits and causing the mean age of the CLEAR crew to plummet.
Andrew Kinlock is a recent graduate of The George Washington University who comes to the Center from a position with the CT DEEP. Andrew is working with Cary Chadwick and Emily Wilson on a project to update the state's National Hydrography Dataset, which contains detailed geospatial information on the state's waterways and waterbodies. The bright and shiny new NHD will be posted on the  CT ECO mapping website. Andrew is reportedly already seeing squiggly blue lines in his sleep.
Manon LeFevre is a recent graduate of Wesleyan University, and is working part-time for CLEAR on a variety of projects.  After spending her first week trying (in vain) to get us to pronounce her name with the correct French accent, she has moved on to updating the information in the Connecticut LID Atlas,  working with Dave Dickson and Mike Dietz.  Manon will also be working with Juliana Barrett and Bruce Hyde on organizing upcoming Climate Adaptation Academy programs, and in her spare time hopes to work with Emily Wilson and Chet Arnold on some land cover analyses.
Welcome to you both!
---