Our older cities in the eastern part of the country have lots of character, however, along with this charm comes the unwanted effects of too much impervious surface draining into a combined sewer system. We have discussed this in a previous blog at CLEAR. Most large cities with combined sewer systems are under order from US EPA to reduce the number and volume of overflow events; Bridgeport CT is no exception.
CLEAR has been involved with an exceptional group of dedicated individuals who have received funding from the SURDNA foundation to install green infrastructure in the City. The group consists of City of Bridgeport staff, faculty from UConn's Extension and Natural Resources and the Environment departments, and Michael Singer Studios. The project also has a broader goal of building support for green infrastructure in Bridgeport's neighborhoods.
The first installation and community engagement activity took place on November 8, 2014. A rain garden workshop was held at Central High School, and a large (1000 square foot) rain garden was installed as part of the training. The City of Bridgeport facilities department provided heavy-equipment work ahead of time, and participants planted and mulched the garden. Several landscape contractors, participated, along with  Central High students who were involved with the BuildOn program in Bridgeport, or the Natural Resources Conservation Academy at UConn.
This project is the beginning of a great collaboration of organizations in the City, and it has a tangible benefit on the Long Island Sound: it will keep over 164,000 gallons of stormwater out of the combined sewer system in Bridgeport annually. This project alone won't prevent all of the combined sewer overflows, but the cumulative impact of more projects like this in our cities will certainly have a positive impact on our State's waters.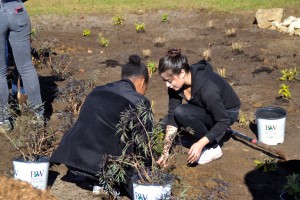 ---