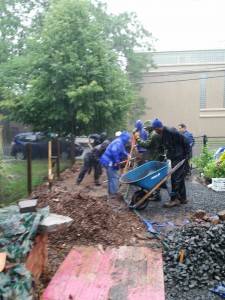 When people think of Hartford and New Haven, "green" may not be the first thing that jumps to mind. However, recent efforts of the UConn Nonpoint Education for Municipal Officials (NEMO) program are helping to make these cities a little bit greener, both figuratively and literally. This past June, NEMO partnered with Neighborhood Housing Services of New Haven (http://www.nhsofnewhaven.org) and Community Solutions of Hartford (http://cmtysolutions.org) to perform rain garden trainings at each location. Both of these organizations are dedicated to enhancing the lives of inner city residents through educational workshops and community organizing.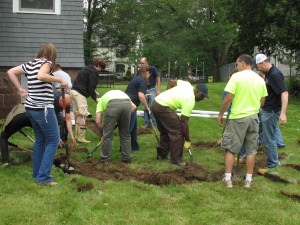 These trainings were targeted at local landscape contractors and community residents, and consisted of a morning classroom session paired with an afternoon hands-on rain garden installation. In the classroom session, participants learned how to site, size, install, and maintain a residential rain garden. Cutting edge tools including web resources and a smartphone app created by the UConn NEMO team are highlighted in the training (http://nemo.uconn.edu/raingardens). The hands on session is critical to help reinforce concepts learned in the classroom, and to teach participants how to overcome real-world problems. The Connecticut NEMO program continues to perform trainings like this that have a tangible benefit to both the waters of our state, and to the residents that live here. Several participants in the New Haven training came to the training to obtain new potential job skills. One participant in particular expressed the value of this training to help him find a niche in the growing green-collar job market.
As a result of the rain gardens installed at these two workshops, 61,000 gallons of runoff from 1,920 square feet of urban rooftops will be kept out of the sewer system annually. Since the goal is to train others to install more gardens, this effect should grow as more rain gardens are installed around the state.
---