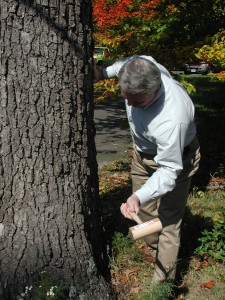 – Article by Bob Ricard
Approximately 85 tree wardens, deputy tree wardens, urban forestry volunteers, and others gathered in Glastonbury, March 20th, for the Tree Wardens' Association of Connecticut, Inc., 22nd Annual Dinner Meeting.  The primary purpose of the meeting was to conduct the business of the state-wide organization, founded in 1992 by UConn Extension Senior Extension Educator, Bob Ricard.  A secondary, but increasingly important purpose was the exchange of information between tree wardens, utility vegetation managers, CT-DEEP foresters, UConn faculty, CT Ag Experiment Station scientists, and others.
The increased interaction of parties affecting community trees has been a hallmark of the organization since its founding.  The improved communication stream has the intent of better mitigating any potential conflict and overlap between the various urban forestry actors.  In addition, the increased professional contact has provided a means to improve organizational relations.
Seventeen graduates of the 2013 Tree Warden School conducted by Ricard in cooperation with the Association were presented with certificates. Ken Placko, tree warden and community forester for the town of Fairfield, was presented with the Outstanding Tree Warden Award.  Utility arborists presented updates on current vegetation management procedures in the electrical right-of-ways.
---