With apologies to Bob Dylan, & more abject apologies to Bob Dylan fans  (in fact, apologies to everyone)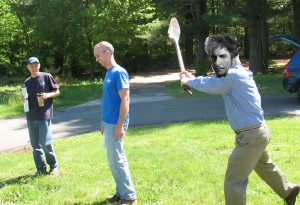 [  References for those under 40:  audio      historical  ]
Come gather 'round people, wherever you've been
And admit that the runoff is up to your chin.
Well  it looks like that soon you must learn how to swim.
If your stream to you is worth savin',
Then start infiltrating or you better sprout fins.
Oh, the Rain Garden App is awaitin'.
Come gardeners, landscapers, throughout the state,
And load up on mulch before it gets too late.
Just measure your roof whether asphalt or slate.
If these cloudbursts you want to be handling,
Then the flood from your downspouts you must soon abate.
Oh, the Rain Garden App is a awaitin'.
The app is downloaded, the icon appears.
You open it up – it allays all your fears.
This job will be easy, so get off your rears.
If the videos you'll be a-watchin',
Then it'll be cake, you'll be soon drinking beers.
Oh, the App it is awaitin'.
Well, Mikey and Dave have achieved something grand
They've created that wonder you hold in your hand.
You're a rain garden expert, exactly as planned.
Now that you're infiltrating your runoff,
You can tweet and retweet it throughout all the land!
Oh, the App it is awaitin'.
---