I've only had my iPhone since May 2011. It's not that I didn't think they were cool and useful (I had bought one for my wife a year before), I just was trying to delay joining the "in crowd" for a while longer. Now it seems like I have had it forever, and it is indispensable (our fearless leader Chet Arnold is the most recent domino to fall in the CLEAR office…no doubt the last holdout Kara Bonsack will be buying one soon!)
So when Dave Dickson asked across the hall last year, "Hey Dietz, what if we made a rain garden app?", I paused for a few seconds, expecting myself to spit out a reason why it wasn't a good idea. However, nothing surfaced, and I found myself saying "that is a great idea!" We were off and running from there. After obtaining funding from the Connecticut Sea Grant program, we found a doctoral student in the Computer Science department at UConn to do the programming, and we provided the content. After much hard work, we are proud to have the first App in the nation for rain gardens.
The App is targeted to homeowners and contractors, and leads the user through the proper siting, sizing, construction, planting and maintenance of a rain garden. It includes nifty tools to help the user figure out the proper size of the garden, find out about local soil conditions, get a handle on the price of construction, and customize a plant list that will delight the eye while soaking up stormwater. In addition, there are 6 short video segments explaining various aspects of rain garden care and feeding.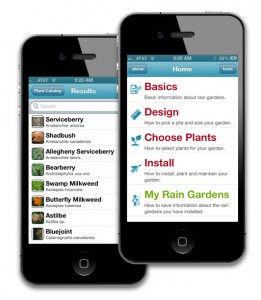 The App is only for iPhones at the moment, but we will have an Android version out soon. Also, the imagery and plant database are specific to CT, but we are starting work on a national version that will have extensive databases for each area of the country.
You can learn more by going directly to the App's info page on the iTunes store, or you can go to the Rain Garden App page on NEMO website.
---