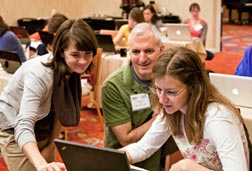 CLEAR's Geospatial Training Program (GTP) is conducting a workshop this week (March 21 and 22) in Asheville, NC for the USDA Southern Regional Water Program. The workshop focuses on the use of ArcGIS.com, a relatively new option for users of all levels of technical skill to create and share maps on the web.  The workshop is being led by GTP's Cary Chadwick, who just recently developed the training with the help of Emily Wilson and Dave Dickson.  Dave is along to teach the 4% of the class that Cary does not teach, and Chet Arnold is along to………ummm, we forget.
The workshop is being supported by a four-year competitive grant that CLEAR obtained from the USDA/NIFA Integrated Water Quality Program.  The GTP is conducting training for Water Program colleagues at national conferences, regional meetings like this one, and other venues.  Our trainees this week include not only Extension staff from NC, SC, Tennessee, Georgia and Alabama, but some of their partners from regulatory agencies, municipalities, and non-profit organizations.
Asheville is a fun, free-wheeling small city nestled in the beautiful mountains of western North Carolina, so we're doubly happy to be here.  This is the first time this particular workshop has been given, but it won't be the last! (In fact, we're already scheduled to do a similar workshop at the National Land Grant/Sea Grant Water conference in May, in Portland, OR).  We're grateful to our Land Grant University colleagues in the Southern Region for hosting us.
---