When we think of environmental education (EE), we might think of connecting youth to nature, increasing student academic achievement, and developing the next generation of environmental stewards. These are all excellent and proven benefits of EE. But EE that specifically empowers youth and adults towards environmental action in their community can also lead to direct environmental and community benefits.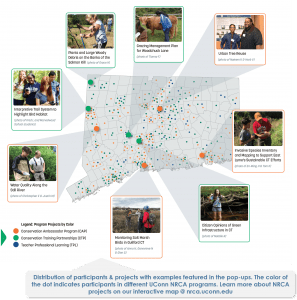 Goal: I set out to assess collective environmental & community impact of conservation projects carried out by teen-adult volunteer partnerships participating in UCONN's Natural Resources Conservation Academy.
But first, what's UCONN's Natural Resources Conservation Academy (NRCA)?
NRCA comprises programs that provides place-based, environmental action programs for teens & adults
Teen & adult volunteer teams formed
Trained in conservation science & technology during field experience or workshop
Teams identify & address a local conservation issue (projects tailored to individual circumstances & community need)
Participants share projects at regional conference
Quantifying impact: I assessed impact of 167 projects carried out by 308 teens and adults participating in two UConn NRCA programs (Conservation Ambassador Program [green dots in map] and Conservation Training Partnerships [orange dots in map]).
The challenge: develop a systematic protocol to quantify metrics from diverse conservation efforts (see range of topics addressed in bar graph)
Reviewed 231 project artifacts, including:

163 participant conference posters
68 project products, news articles & awards (participant self-reported)

Evaluated artifacts for:

Environmental impacts
Community assets or resources
Social capital gained
And the results are in = BIG IMPACTS!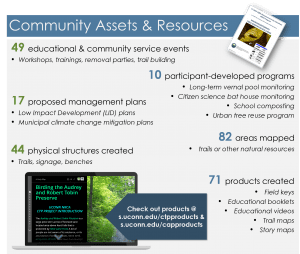 Next directions:
Project artifacts provide a vital resource to quantify short-term environmental impacts and community benefits
To assess long-term indicators, we will use a survey instrument to:

Gauge continued participation in conservation efforts
Measure environmental improvement (monitoring post-project)
Identify projects & partnerships characteristics that facilitate environmental improvement
Interested in joining a UCONN NRCA program? We are still holding programs in 2020. But, in light of Covid-19, we are going online! Consider applying!
Interested in seeing our impact in action, watch our STEM 4 All video: https://stemforall2020.videohall.com/presentations/1788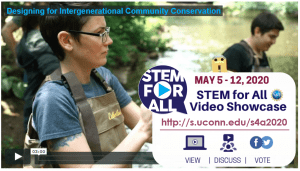 The results above were presented at the 2019 North American Association of Environmental Education
---