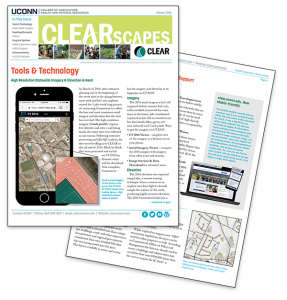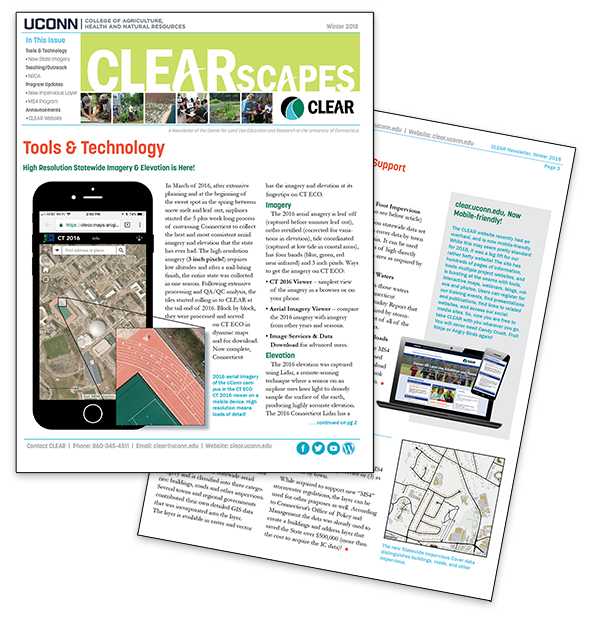 The latest edition of CLEAR's newsletter, CLEARscapes, is now online for your viewing pleasure (embedded below, or link to the pdf here). Our CLEAR newsletter is one way we connect with Connecticut towns and communities, by highlighting all the cool things happening here at the Center. Once or twice a year we publish a newsletter focusing on teaching and outreach, tools and technology, and specific program updates including new projects and tools, partnerships, awards, workshops and training classes, websites and reports, and more.
Historically, we'd print and mail the newsletter directly to town officials, community leaders, and anyone else who was interested. But as the "go paperless" movement gained momentum, we've stopped mailing hardcopies, and instead send the newsletter electronically through our email marketing service. If you'd like to be on our emailing list, sign up here, and put a check next to our "CLEARscapes Newsletter" mailing list. We do keep some hardcopies available for those who would prefer one. Contact us if interested.
A few facts about our newsletter(s):
CLEARscapes' editor is Center Director Chet Arnold, with additional article contributions from CLEAR Extension Educators and partners.
CLEARscapes' designer is CLEAR's graphic designer and website developer Kara Bonsack.
CLEARscapes has been in publication for 10 years (2009-2019) with a total of 14 editions, 1 per year (occasionally 2).
CLEAR's longest running program, CT NEMO, predates the center going back to 1991 (28 years!), also had a newsletter.
The CT NEMO Newsletter's editor was former CT NEMO director John Rozum.
CT NEMO published its newsletter for 6 years (2002 – 2008), with a total of 7 editions, before morphing into one consolidated Center-wide newsletter in 2002.
Another CLEAR program, the National NEMO Network also produced a newsletter between 1998 – 2010. John Rozum and CLEAR's National Programs Director Dave Dickson, both contributed their editorial expertise.
Kara Bonsack, designed all editions of CLEAR-related newsletters, starting on her hire date (2002) for a total of 35 newsletters in 17 years!
All CLEARscapes editions are accessible on the CLEAR Publications page.
Archived CT NEMO editions are accessible on the NEMO Publications page.
---
CLEARscapes Winter 2019 Edition
---