Let's do a quick word association: If I say "milkweed" what do you think? For me, the association is always monarch butterflies. I remember walking through fields with my dog looking for monarch caterpillars on the milkweeds, and the thrill of finding the beautiful, incredibly delicate, green chrysalis.
Years later, on a fall day, I was outside emptying my son's pockets which he had crammed full of milkweed pods. (Yes, they opened up and seeds were everywhere). The next spring, milkweeds came up all through our gardens, and I couldn't bring myself to pull them out. So the milkweeds were allowed to merge with the iris in the hopes of seeing monarchs again. My sons and I would carefully search under the leaves for eggs and larvae. Sometimes we found the striped white, yellow, and black bands of the monarch, but more often than not, we found another milkweed caterpillar – the milkweed tussock moth (also called the milkweed tiger moth). These hairy orange and black caterpillars devour milkweed leaves within hours leaving just the stems.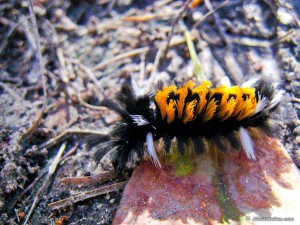 Sadly, we've seen fewer and fewer monarchs over the years. Many people have noticed and are tracking this trend for not just North American monarchs, but other insect and bird pollinators as well.
The U.S. Fish and Wildlife Service has partnered with the National Wildlife Federation and the National Fish and Wildlife Foundation to engage Americans in protecting and restoring monarch habitat through a program called Conserving the Nature of America. This initiative was announced in February 2015 with a goal of engaging millions of Americans from school groups to private gardeners in planting milkweeds and other pollinator friendly plants.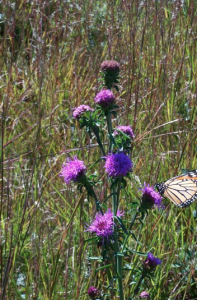 Things you can do:
Become a citizen scientist: At the Journey North website you can record all your sightings of monarchs from eggs to butterflies. Your information will become part of a national network helping scientists to gather data on populations and travels of monarchs. Monarch sightings: http://www.learner.org/jnorth/maps/monarch/l
Plant milkweeds and other butterfly friendly flowers (watch for free seeds and plants). To encourage planting of pollinator gardens, W. Atlee Burpee & Co. donated one million pollinator seed packets to the U.S. Department of Agriculture and the Department of Interior. Almost 30,000 seed packets were given out to families at the 2015 White House Easter Egg Roll.
Become part of the Million Pollinator Garden Challenge welcoming pollinator friendly gardens of all sizes.
---