CLEAR's Geospatial Training Program recently held a workshop for the Connecticut State Museum of Natural History on the art (and fun) of geocaching.
Have you heard of geocaching? No? Then you fall solidly into the "muggle" category – aka a human who is not in the know about the greatest real-world treasure hunt that's happening right now, all around you, right outside your door. Geocaching is a high-tech game of hide and seek using the global positioning system (GPS) and a handheld device such as dedicated GPS receiver or a GPS enabled smartphone. Hidden all around you (and all over the world!) are caches – containers that range from practically microscopic to those the size of a microwave oven. Inside the cache can be a number of things, including trinkets and trackable items (we'll get to that in a minute) but most important, the cache will contain a log where finders of the stash jot down their geocaching alias as proof they found the treasure. After discovering the cache, the geocacher will also visit the geocaching website to log their find digitally, record the movement of trackables and bolster their official find tally. Some cachers have racked up 1000's of geocache finds. This guy is so into it he's found over 100,000 geocaches. Wowzas, a real life cache pirate.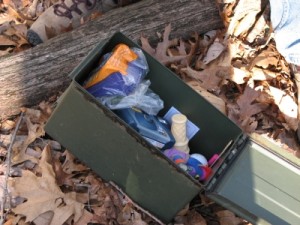 So what's a trackable? Trackables are items left in caches that have a unique serial code engraved on them. This code can be used to identify the item and track where it has been as it travels from cache to cache. Geocachers are responsible for taking the trackable from one cache and placing it in another in a timely manner. Some trackables even have a "mission" to get to a specific destination – for example, get from one coast to another – all by way of geocaches!
There are rules to geocaching – mainly, respect the environment, trade trinkets evenly (take something, leave something behind), log your finds, misses and trackables and beware of muggles. Most of all, have fun! There are over 2.4 million active geocaches worldwide. That should keep you busy for awhile!
Some helpful resources to get you started:
The Official Geocaching Website – sign up for a free account and create your geocaching alias
Download the Geoaching App for your Apple, Android or Windows device
Helpful (and funny) video clips – covers basics to advanced topics
Handheld Garmin GPS receivers for Geocaching
---