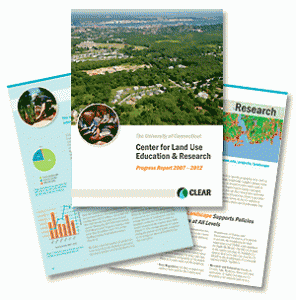 Every 5.5 years or so (we have only two data points, so this may or may not be a trend) CLEAR issues a Progress Report in an attempt to characterize our rather unconventional blend of research, training, tool development, and outreach. Our second such report is now out, and to be frank—not to mention immodest —we find the contents impressive.  We hope that you will too. 
So when you're feeling particularly brave, or are desperately trying to avoid doing something even more unpleasant than perusing a report, we invite you to give it a whirl.  Despite the yawn-inducing title, there's good stuff in there about the actual impacts that CLEAR information and programs have had on people and communities throughout Connecticut (and through the National NEMO Network, beyond CT).
I believe that I will save whining about our funding situation for another blog (lucky you).  For now, in a transparent attempt to portray laziness as efficiency, I'll just list a couple of extremely tantalizing bullets on things found in the Report.  (Come to think of it, most of these will probably become future blogs as well…)
LEARN about the results of a recent CLEAR survey showing who uses CLEAR, for what, and what they think about it!

THRILL to the glowing comments submitted by our survey respondents!
MARVEL at the many uses that Connecticut communities and organizations find for CLEAR land cover data!
WONDER at how the CT ECO website helped coastal Connecticut brace for Tropical Storm Irene!
UNDERSTAND the importance of the NEMO-led stormwater project taking place on the UConn campus!
BE ASTOUNDED at widespread impacts of the Land Use Academy, NEMO Network, and Forestry programs!
Just two final items for your attention: (1) we really do welcome feedback; and (2) there are limited hard copies of the Report available to the deserving—please write to me, Kara, or our CLEAR email to request some.
---