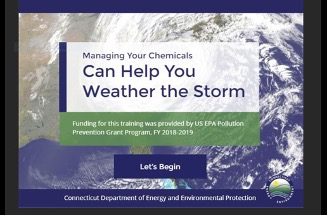 Description: Did you know, 40% of disaster-struck businesses fail to reopen and 25% that do, eventually fail? Extreme weather could put your business at risk - it's important to make your business resilient. This free course is designed to help a variety of businesses, especially those in flood prone areas that use chemicals in their process, sell chemicals and store hazardous waste onsite, including service providers and retail stores that sell toxic products. It provides steps businesses can take to reduce risks and prevent damage, contamination, and liability and keep your business operating.  You'll learn the following from this course: Natural hazards common in CT, Benefits of liabilities of preparedness, how to assess your risk, actions your business can take, how to connect with local emergency managers, and what steps other CT businesses have already taken, including video clips taken on-site.
Who should take this course: business owners, service providers, and retail store operators, particularly those in flood prone areas and/or that use or sell chemicals
Format: Online, at your own pace, 1 module
Estimated time to complete: 20 min  (Course must be completed within 60 days)
Completion reward: A certificate of completion is available upon completion of the course
Cost: Free
For questions regarding course content, please email please email: deep.pollutionprevention@ct.gov or connie.mendolia@ct.gov.  In the email subject line please indicate:  21st Century Resilient Business Online Course Question.
Technical support: jean.madden-hennessey@uconn.edu
Look for CT DEEP Pollution Prevention 21st Century Resilient Business: How Managing Chemicals Can Help You Weather the Storm Training in the list of courses