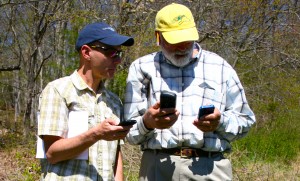 Introduction to GPS Mapping with Avenza Maps
This half-day in-person workshop will introduce participants to the free Avenza Maps app on their Apple iOS or Android device.  This workshop will focus on how to use the app for data collection. Topics covered include: an app overview, collecting GPS tracks, placemarks, and geolocated photographs, and standardizing field data using data schemas. We will discuss uses for the data, including contributing to the Connecticut Trail Finder, sharing with others, and strategies for using GPS data in mapping applications.
Date: January 26, 2024 (snow date January 31)
Time: 9:00 AM-12:30 PM (new start time)
Location: Middlesex County Extension Center, Haddam, CT
Workshop fee: $50 paid by check, credit card, PO
BYOD (Bring your own devices): An Apple iOS or Android device is required as well as a laptop. Loaner laptops available upon request.